About Us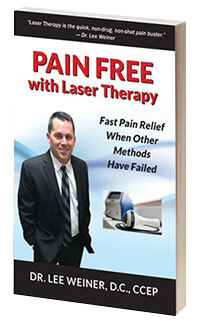 Dr. Lee Weiner graduated from Life University in 1998, after making a career change from being an accountant. When it was time to open his own practice, he had a desire to live close to the beach. He and his family wanted to look for a new community that would offer a high quality of life with friendly neighbors. They found Oceanside and knew it would be a perfect fit. Oceanside Wellness Center has been a part of the community since 2001.
Our Purpose
We keep it simple: we're here to get you fast pain relief. We use cutting-edge technologies that you won't find anywhere else. With our years of experience and multitude of therapies, you can get results here even when everything else has failed you.
Accuracy and Precision
Our focus is on getting to the cause of your problem. To do so, you'll have a thorough examination. This process allows us to give you a correct diagnosis. Then, we can determine the best way to solve your problem.
MEET DR. LEE »
Dr. Weiner is the author of Pain Free With Laser Therapy: Fast Pain Relief When Other Methods Have Failed. For a decade, we have used this beneficial therapy for our patients. A myriad of conditions respond extremely well to laser therapy. You may have been in pain for years. Perhaps you're considering surgery or taking medications to control your discomfort. You can experience a tremendous improvement with as little as just a few sessions of laser therapy.
If you have knee pain, you know how debilitating it can be. One of our main focuses is on relieving knee pain. Most sufferers have difficulty walking through our door. Soon, however, they need no assistance and are back to their normal activities. You might be surprised how simple it is to get better!
Honesty and Integrity
We base everything we do on the values of honesty and integrity. We'll give you our best recommendations on what we need. If we can't help you, we'll tell you that, too. You'll be informed on whether we think we can get quick results or if your case will take more time to address. We believe in being straightforward with you and gaining your trust.
We accept most insurances. Contact our chiropractic office today to schedule your first appointment!
---
About Oceanside Wellness Center | (516) 255-0272