Laser Therapy in Oceanside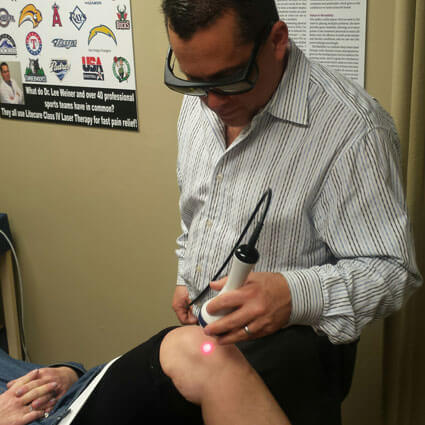 We're always on the lookout for the newest technology and equipment to help you get better. We've found that many conditions respond extremely quickly to laser therapy. With our Class IV laser, you can get results faster than you may have imagined!
Our Top-of-the-Line Laser
We utilize the LighForce EXPi Class IV laser. It's the same laser used by more than 100 collegiate and professional sports teams and in elite pain centers around the globe.
"It's the best addition I ever made to my office. We can treat conditions in just a few days or weeks that would take far longer to respond to traditional therapies." – Dr. Weiner
What Is Laser Therapy?
During laser therapy, the laser penetrates deeply into your skin, stimulating cells while reducing inflammation and scar tissue. A soothing sensation is all you'll feel during your session. We may recommend that you get laser therapy in conjunction with our other available therapies.
Your sessions take just 5-10 minutes each. Within a couple of visits, you'll begin to notice a difference.
Laser therapy can help many types of pain. It is particularly effective for

Ankle/foot pain
Arthritis
Bursitis
Disc problems
Elbow pain
Knee pain
Tendonitis
Wrist pain
Dr. Weiner's patient Elaine suffered from chronic knee pain and swelling. She found it difficult to walk or get out of the car. After six laser sessions in two weeks, she had less pain, could walk better and noticed that the swelling around her knee was nearly gone. Another six weeks went by, and her knee rarely bothers her. Thanks to care, her back is improved, too.

It's amazing how simple and effective the laser is. We've been fortunate to have our patients spread the word to their family and friends, who want to find an efficient, caring doctor.
Book Your Appointment Today
Are you looking for laser therapy Oceanside? Contact us today to schedule your consultation!
CONTACT US »
---
Laser Therapy Oceanside NY | (516) 255-0272