If it's an "Itis", Laser Therapy Can Help
Common therapeutic approaches for pain and inflammation reduction include ultrasound, electrical muscle stimulation and ice. Each of these methods can do their part in reducing pain and inflammation, but there is another method that also works wonders – laser therapy.
The word "itis" added at the end of any diagnosis, implies there is inflammation. The signs of inflammation include; redness, heat, pain, and loss of function. When you are in pain, you have damage to your cells. This damage sends a signal to the brain and you feel pain. Class IV Laser Therapy gets to the source of pain & FAST.
What makes laser therapy an excellent choice for patients and clinicians looking to reduce both pain and inflammation? For one, it is non-invasive, fast, and effective. Additionally, laser light works with the body on a cellular level, specifically targeting damaged cells and tissues, to quickly activate the body's own analgesic and inflammatory mechanisms. Finally, laser therapy can also increase vasodilation, helping to bring vital nutrients to damaged areas
Laser therapy presents a great option for people looking for a drug-free, non-invasive treatment option. Class IV therapy lasers are particularly effective for treating the pain and inflammation related to arthritis, tendonitis, and bursitis because they are more powerful and can deliver larger doses in shorter treatment times. Patients can expect to see great results in 6 to 12 treatments – much faster than traditional physical therapies which can take a few months.
Laser therapy is very helpful in many conditions that give doctors and therapists difficulty. Laser can be used for the knee, foot/ankle, toes, bunions, hip, shoulder, elbow, and the hand/ wrist. Laser can help tendonitis, bursitis, plantar fasciitis and arhtritis.
These lasers are used by professional sports teams and elite pain centers around the world.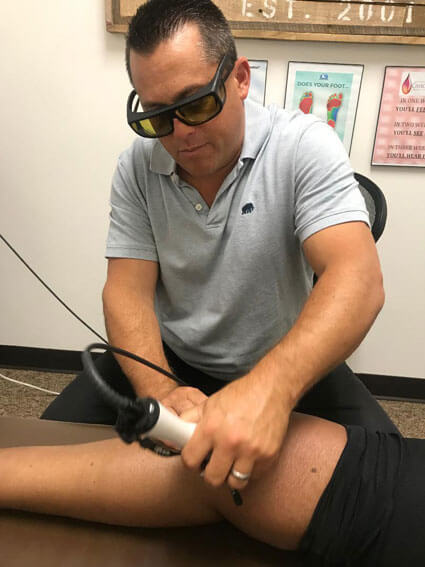 Class IV Laser Therapy by Litecure locally on Long Island at:
Oceanside wellness Center – Dr. Lee Weiner
Helping Long Islanders Since 2001
3218 Long Beach Rd., Oceanside, NY 11572
(516) 255-0272